Business Card CD-Roms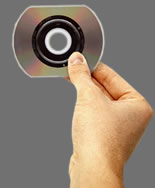 Business Card CD-ROMs allow you to leave a piece of your business with a prospective client. Rather than a paper business card and a brochure, leave them with a business card size CD-ROM that actually shows your product or service in action.
These cards can be played on virtually any computer on either platform (Mac or PC). Look in your CD-ROM tray. See the smaller tray inside the tray on which you play audio CDs or CD-ROMs? THAT is where these cards are played.
Whether you want your web site putting onto disk, a simple powerpoint presentation highlighting your product or services, a virtual brochure or a fully interactive presentation for prospective clients, our cards are quickly becoming the trade show and networking tools of choice. Anything that can be digitised can be put onto these amazing little discs that have roughly the capacity of 40 standard floppy discs (50mb)!
Your custom card will be printed with any artwork you wish, along with your logo, name, address, phone/fax, email, Web site, etc. Any artwork and information you feel represents your business can be put on the disc face in full colour.
Advantages of CD Business Cards
Show your web site without an internet connection
Interactive Multimedia Sales
Presentations
Product Demonstrations
Interactive brochure / catalog
Software distribution
Product demos
Company videos
Owners Manuals
Technical support materials
Direct Mail Advertising

Trade Show Contacts
Trade show Information
Multimedia magazines or newsletters
Pictures
Interactive Forms
Video clips
PDF / printable documents
HTML - your entire website on disc
Invitations - specials events, weddings
New product launch
Training new employees
Audio tracks

Press kits
Annual reports
Special Edition
Link to Website
Link to e-mail
Events
Company directory
CV's
Samples of your work
Video tour of your facility
Tickets to special events
Flash animation
Small - Easy to carry and distribute
Consolidate - reduces the amount materials salesmen need to carry
Your company has a "high-tech" look and feel - no one wants to be low tech these days!
One-Off Setup Fee
If you would like your company web site copied onto the disks there is a small one-off setup & project fee. This price is inclusive of artwork for the front cover of your business card cd-rom.
Setup and project fees are only paid once - i.e. subject to the content remaining the same, repeat orders will not encounter this fee.
If you would like something else copied onto the disks then please contact us on: 01536 713834 for a 'setup & project' quote.
If you would like a quote for CD-Rom Business Card or receive a Free Demo then give us a call on 01536 713834 or Email Us.