Dozens of new people are moving into the leisure village area and also the Hawthorn Road area EVERY WEEK. In most cases these new residents are new to the area and have no local knowledge. They are looking for guidance and the Directory offers the perfect opportunity for businesses to get themselves in front of these new potential customers.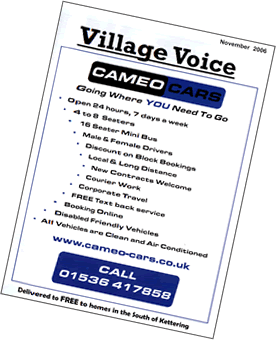 It is truly local. All advertisers operate in or close to the area. There is strong evidence that truly local services are preferred by the majority of the UK population.
Longevity – it isn't thrown away each week like a local newspaper. People keep it as a reference for the whole month as it is a handy A5 size.
No VAT. The price you see is the price you pay – unlike most publications where an extra 17.5% is added to the bill. This is because we are a small independently run business.
Quality. The Directory has a very high standard of print and production – utilising colour, glossy and 100gm paper inside. All artwork is professionally finished to ensure that you look your best and that your company is proud to be featured and associated with a high quality publication. From the October edition the front and back cover will be glossy and in colour.
Acceptable Formats. MS Publisher, Word, PowerPoint, & Excel: JPEG PDF, TIFF
Colour Ad's should be created using CMYK format.
Payment. Full payment for all Ad's must be received within 7 days of Invoice date.
Distribution The Directory is published and distributed monthly, on or around the first weekend of the month.
It is delivered to around 2500 homes in the south of Kettering including the Leisure village area and Hawthorn Road areas - guaranteed.
Classification Only one or two of a certain type of business advertised together in any one month to ensure that your business can achieve the most out of the magazine.